RS-232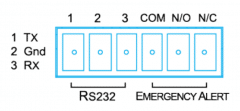 With the increasing trend of putting electronics into a ceiling or wall vault comes the challenge of maintaining control. However, with a simple 3-pin Phoenix connector to our RS-232 input, most major wall control panels can control the audio sources without the need to directly access the amplifier.
• 3-Pin Phoenix connection: Maxim™, Spectrum™, Forum™
• RJ-45 connection: Matrix™
For the latest RS-232 codes, please see our application note here.

Contact us for more info
Learn more about Easy Integrations
---
Request More Information