Seeking compliance with panic alert legislation or wondering if you need to? We can help!
Download our whitepaper
Teacher activated panic alert within reach at all times
Teachers are often the first contact in an on-campus emergency and need to be equipped with the best technology to promote safety and security.
It's important schools take safety seriously and stay up-to-date with campus safety standards. Implementing security systems can be tricky, which is why TeachLogic® developed a panic alert feature integrated into its classroom audio systems.
Our amplifiers have a "security alert" function is activated with our Sapphire™ (IRT-60) or Ovation™ (OM-10) pendant-style wireless microphone. When pushed and held for three seconds, the microphone wirelessly transmits an alert signal to its associated amplifier/receiver. This amplifier/receiver directs that signal to a rear-panel contact closure that acts as a switch. Keep reading to learn more.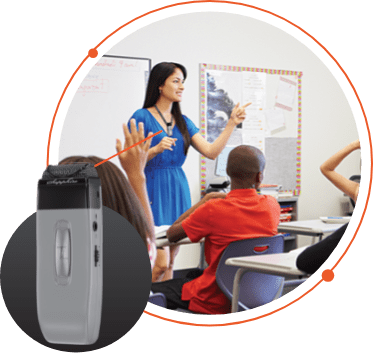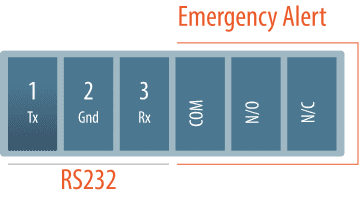 You have more options than ever before for keeping students safe.
Our technology lets teachers send a silent panic alert (sometimes called a security alert or emergency alert) signal to their front office through the intercom.
This is all accomplished very easily with the TeachLogic® system. It's a simple two-conductor wire connection between the contact closure of the TeachLogic® amplifier and the wall-mounted intercom call button panel. We are simply creating "short" that activates the call button that normally sends signals from the call button panel down the intercom lines from the classroom to the main administration office.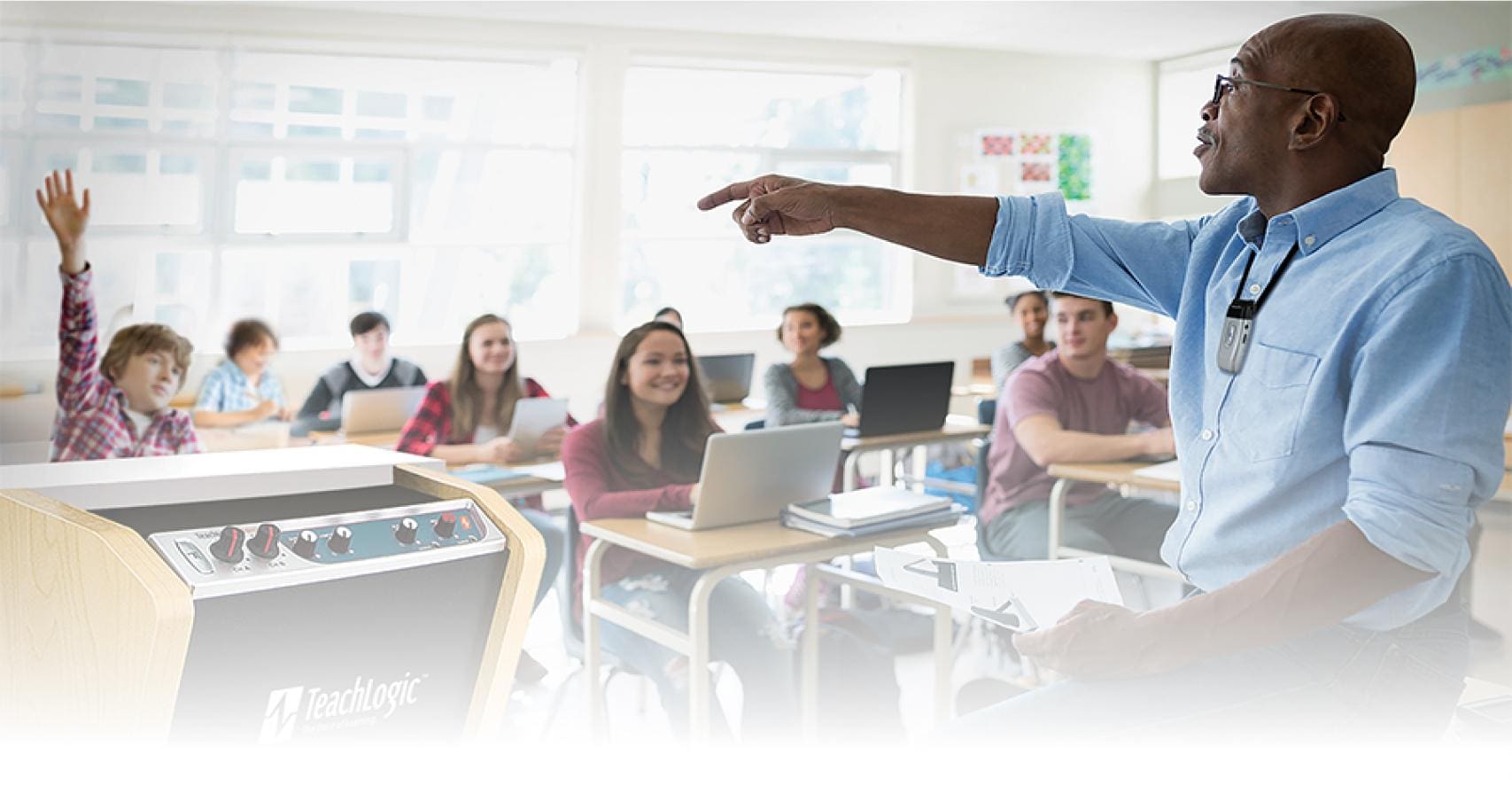 Learn more about how easily we can help get your school a silent panic alert system in place.
Download the whitepaper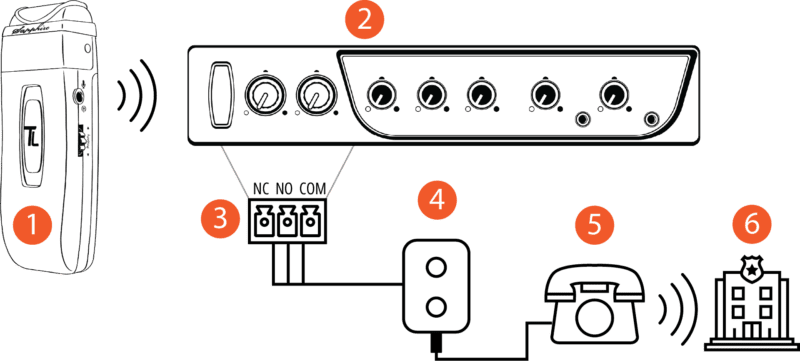 Teacher presses & holds for 3 seconds

TeachLogic Amplifier

Security Alert Connection

Intercom Wall Call Button

Front Office

Law Enforcement Contacted
TeachLogic Intercom Integration Partners:

How TeachLogic Can Help Your School Meet Alyssa's Law Compliance Requirements
Are you seeking compliance with Alyssa's Law or a similar school safety requirement? If so, you likely have many questions about how to meet the requirements of this critical legislation that addresses the issue of law enforcement response time when a life-threatening emergency occurs.
Because time equals life.
Alyssa's Law is named after Alyssa Alhadeff, a 14-year-old who was murdered in Parkland, Florida. The tragedy spurred her parents—councilman Ilan Marc Alhadeff and Lori Alhadeff—to advocate for change in gun laws as well as school safety measures. In particular, they wanted to ensure schools had a plan in place to alert law enforcement during an emergency, and they were not required to wait for police response via 911 call centers.
In 2018, Florida Governor Rick Scott signed into law legislation requiring all schools to install silent panic alarms directly linked to law enforcement agencies. These alarms are intended to be used by students who need help but cannot call out due to fear or other factors (e.g., being held against their will).
TeachLogic® security systems will put you in compliance with Alyssa's Law and keep your students safe.
We offer a customizable, affordable solution that meets all of your school's needs. Our software is easy to use and takes less than an hour to set up, so you can start using it right away. Keep your campus safe with TeachLogic®.
For more information visit https://makeourschoolssafe.org/alyssas-law/.

Get the benefits of both a classroom audio system and a security alert system.
Download the whitepaper

Maxim™ Receiver Amplifier
Our flagship audio system is the ultimate audio system for a classroom.
It comes ready to support both in-person and hybrid learning with two-channel receivers that allow the simultaneous use of two wireless infrared microphones. It also comes with our Sapphire™ pendant.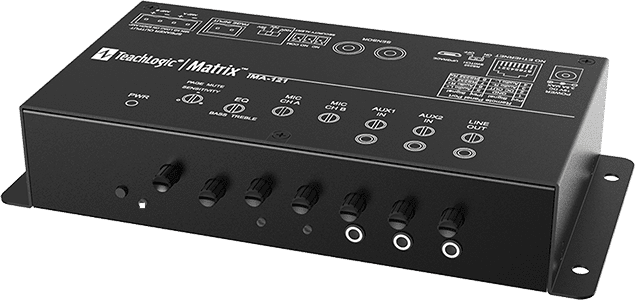 Matrix™ Receiver Amplifier
The Matrix™ is ideal for any room where the amplifier needs to be out of sight and/or in a vault for security. It connects to the same ceiling sensor and speakers as our other user-friendly systems.

Spectrum™ Receiver Amplifier
The Spectrum™ is our most powerful infrared classroom audio system for use in larger gathering areas or in a room where you need more than four speakers.
The Spectrum™ is ideal for classrooms, auditoriums, and other large spaces where you need to fill the room with sound. It has 20 speakers and can be used with the entire Spectrum™ line of wireless microphones.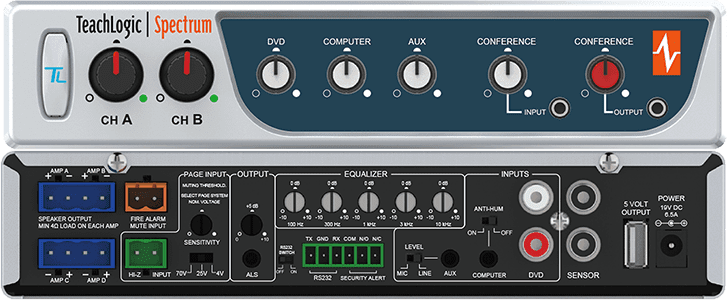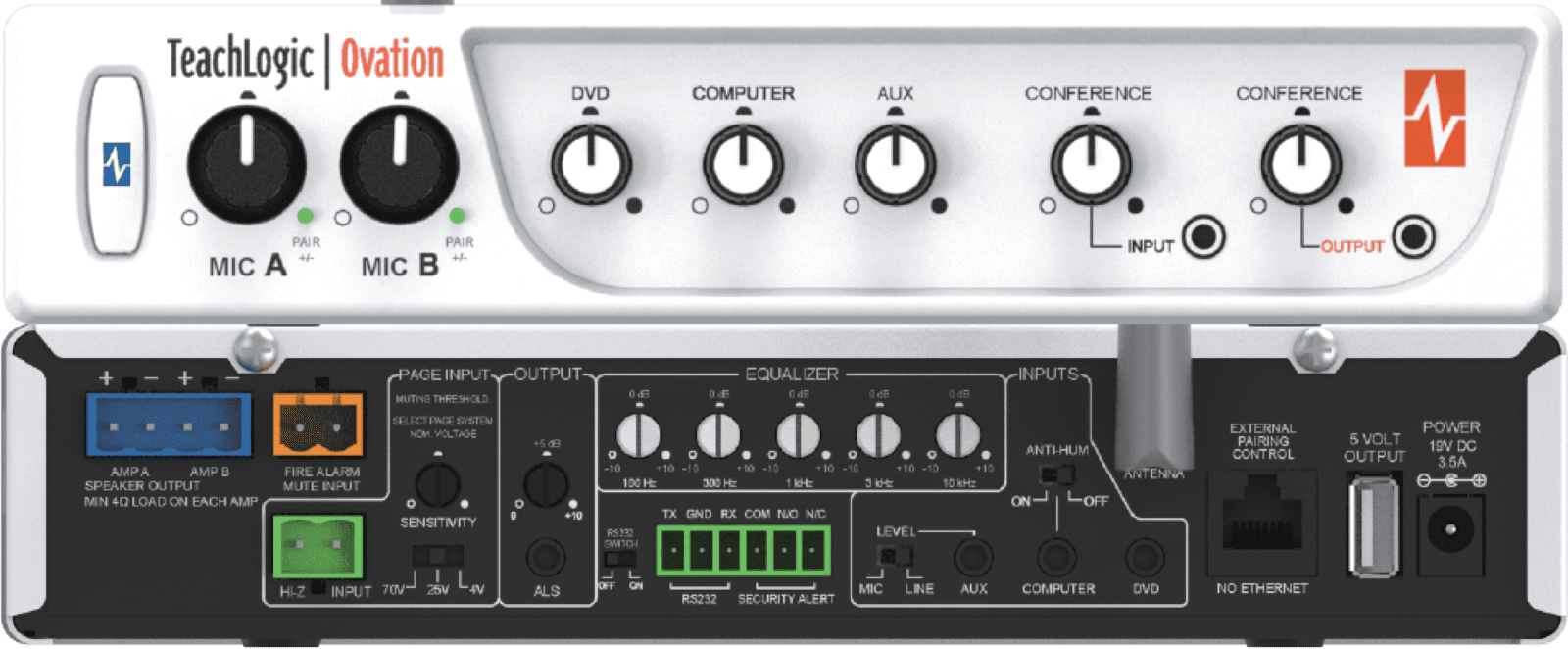 Ovation™ Receiver Amplifier
The Ovation™ uses special DECT (Digital Enhanced Cordless Telecommunications) radio technology to wirelessly receive audio, making it perfect for any size or type of classroom. With four inputs, two outputs, and two mic channel receivers, the OA-50 can integrate various media devices and simultaneously use two wireless microphones to supplement your presentation material for added student engagement..
Contact Us to Learn More